Medicinal Importance of Ficus exasperata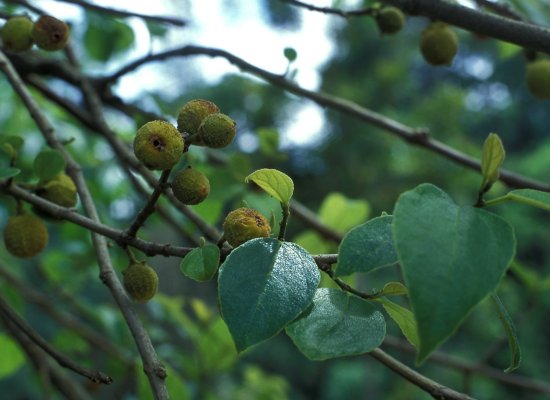 Ficus exasperata Tree
Ficus exasperata or Vahl belongs to the family Moraceae and is known by many local names such as sandpaper (leaf) tree or the white fig tree. The terrestrial arborescent shrub or tree is approximately 20 meters tall. It is one of the most useful plants of West Tropical Africa and is found in several other countries like Ethiopia and southern parts of the Arabian Peninsula and India. Ficus exasperata prefers the deep jungles of evergreen and secondary forest habitats. The whole plant has several medicinal uses and is extensively used for treating many diseases in African traditional medicine.
Medicinal uses of Ficus exasperata
Ficus exasperata has high medicinal importance as it is used for the treatment of various ailments and diseases. The plant has high concentrations of alkaloids, tannins and flavonoids. While the stem of Ficus exasperata is rich in alkaloids and tannins, the leaves have higher proportions of saponins, flavonoids and cyanogenic glycosides.
The sap of F. exasperata is sticky, amber colored, non-milky and viscid. It is primarily used for the treatment of eye ailments (such as sores and infections), general healing and stomach problems. The stem sap of F. exasperata is applied locally for treating warts. In Ghana, the sap is also used in blood clotting.
The bark of F. exasperata is smooth and is whitish-grey in color. It is an excellent abortifacient and is used in various medicinal purposes. The bark is boiled and the liquid is used to enhance quick and easy expulsion of the after-birth in humans and cows. Also, the scrapings of the bark help to stimulate and anoint the body. In various other countries, the bark is used to treat leprous sores, hemorrhoids and debility.
The root of F. exasperata is used both alone and in conjunction with root and leaf. It finds its use in the treatment of respiratory disorders (such as asthma and dyspnea) and other venereal disorders.
Leaves of F. exasperata are rough, stiff, leathery in texture and ovate-elliptical in shape. The leaf extract of the plant is used in medication for managing arterial blood pressure (hypertension), arthritis, epilepsy, rheumatism, bleeding, intestinal pain, colics chest complications and wounds as well as for ringworms. The leaves are also used to treat various livestock diseases. Experiments show that the aqueous leaf extract of F. exasperata has several pathological effects: anti-inflammatory, anti-ulcerogenic, anti-nociceptive and anti-pyretic effects. Also, ethanolic extract of the leaves of F. exasperata has anti-oxidative properties that enhance its tolerance level against arthritis.